It's an ANYTHING GOES challenge over at Creative Knockouts! Time to brush off that workspace of yours and get down and dirty - show us what you got!
Our sponsor for this challenge is Sheepski Designs and the lucky winner will receive 3 images of their choice!
I LOVE this image, Rudolph's Selfie and it makes me smile every time I look at it!
I colored the image with Copic markers and let me tell you, I was having some difficulties. Trying to match the coloring in both pictures proved to be a challenge for me - none the less, I love it anyways!
I cased the design/layout from Sheepski Designs, I really liked the background and wanted to give it a shot (needs some work, forgot about matching the image again!).
I used a white gel pen to add some dimension on the nose(s) and as falling snow. I sprayed some Pewter Spritz and added glossy accent to the nose(s) and stuck on some bling. The hashtag "#reindeergames" was computer generated.
For the layout I was trying to find the right patterned paper but felt the image was lost in the patterns I had so I stuck with CAS.
Make sure you check out the amazingly creative creations from our Design Team
then it's your turn to have some fun.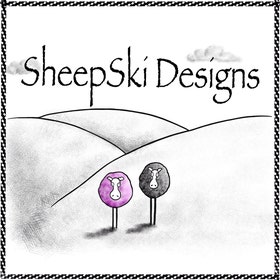 Challenges:
The Holly and Ivy Christmas Challenge - Anything Goes
ABC Christmas Challenge - S for Sparkle and T for texture (glossy accents)
Christmas at Sweet Stampin' Christmas - Anything Goes
Cute N' Crafty Chirstmas - Anything Goes